Grant Types and Past Recipients
All applications will be automatically considered for the following awards. The awardees will be selected by the committee based on the merit of the proposal. Awardees will be recognized in the Paleontological Society Newsletter, Priscum.
Named Awards
President's Student Research Awards
The several top-ranked proposals will be recognized as President's Student Research Awards.
Richard K. Bambach Award
All applications will be considered for two Bambach Student Research Awards.
ESCONI Award
All applications will be considered for the Earth Science Club of Northern Illinois (ESCONI) Award, but preference will be given for student research on the Paleozoic of the midwestern United States.
Elso Barghoorn Award
This award honors the scientific career of Elso Sterrenberg Barghoorn, Jr, (1915-1984), who is renowned for his contributions to Archean and Proterozoic paleontology and Phanerozoic paleobotany. In many ways a man ahead of his time, he championed the careers of women paleontologists and biologists, among them the evolutionary biologist Lynn Margulis (1938-2011), best known for her pioneering work on endosymbiosis. All applications will be considered for an Elso Barghoorn Student Research Award, but preference will be given to projects that involve paleobotany or Archean and Proterozoic paleontology.
Arthur J. Boucot Award
The Boucot Award was established by the Paleontological Society in recognition of Art Boucot's generosity to the Society. All applications will be considered for a Boucot Student Research Awards.
Kenneth E. & Annie Caster Award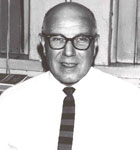 Kenneth E. Caster (1908-1992) was a renaissance paleontologist who researched fossils from sponges to eurypterids; he had especial affection for echinoderms and arthropods. In addition, he was an early proponent of the application of the facies concept to understanding stratigraphy, his work in the Southern Hemisphere convinced him that continents moved, and he was an ichnologist before the word was coined.

Ken and Annie (1910-1995) came to the University of Cincinnati in 1936. Annie was a geologist and teamed with Ken in producing manuscripts. The Casters were well known for entertaining students at their fascinating home. They worked closely with amateur collectors and helped found the well-known "Dry Dredgers" in 1942.
Ken, as teacher, supervised at least 30 master and 25 doctoral students. He was given a variety of awards, including the Orville A. Derby Medal of the Brazilian Geological Survey, the Gondwana Medal of the Geological Survey of India, the Paleontological Society Medal, and received both Guggenheim and Fullbright fellowships. Ken was President of the Paleontological Society, three times President of the Paleontological Research Institution, and in 1975, his students presented him with a Festschrift volume in honor of his 45th year of teaching.

(See, 1993, Journal of Paleontology, 1993, p. 1095-1096).

All applications will be considered for five Caster Student Research Awards. 
G. Arthur Cooper Award
The Cooper Award was established by Richard Bambach in honor of G. Arthur Cooper. All applications will be considered for a Cooper Student Research Award. 
Rodney M. Feldmann Award
All applications will be considered for two Feldmann Student Research Awards. 
Elvira and Bob Gastaldo Deciphering Earth History Award in Applied Paleobotany
Funds will support paleobotanical studies that focus on the application of terrestrial and aquatic plants to the fossil record and history of life. Studies include, but are not limited to: plant taphonomy, paleoecology, ecosystem evolution and response(s) to perturbation, refining paleoclimate proxies, palynofacies and dispersed organic matter, and other techniques yet to be developed which fall under the broad umbrella of applied paleobotanical research. 
Stephen Jay Gould Award
This award recognizes the vast and wide-ranging contributions of Stephen Jay Gould (1941-2002): to paleontology, evolutionary biology, and the history and philosophy of science; to the popularization of science and natural history through his numerous essays and books written for the general public; and as a generous colleague and mentor. All applications will be considered for a Gould Student Research Award. However, consistent with Steve's focus on the nature and meaning of history, particularly evolution, preference will be given to (macro)evolutionary studies.
Leo J. Hickey Award
Leo J. Hickey (1940-2013) was a paleobotanist and sedimentary geologist who made major contributions to our understanding of flowering plant evolution and paleoecology, as well as plant extinction and Cenozoic climate change. His insights were shaped strongly by his fieldwork in the Rocky Mountains and Great Plains, the coastal plain of eastern North America, and the Arctic. All applications will be considered for a Hickey Student Research Award, but preference will be given to projects that involve field work on terrestrial fossils and sedimentary systems.
F.D. "Bud" Holland, Jr., Award
Frank Delno Holland, Jr. (1924 - 2023), known to his many friends as "Bud," was a broadly educated paleontologist and stratigrapher specializing in invertebrates but able to work with and to teach fossil groups from protists to dinosaurs. He shared a love of the history of geology, high quality teaching, and mentoring with his students. Bud's professional career spanned four decades at the University of North Dakota, during which he published extensively on the Devonian, Cretaceous, and Cenozoic paleontology of the upper Midwest. This work and his vast knowledge of paleontology formed the basis for infusing his students with an encyclopedic knowledge and enduring love of paleontology, especially the importance of systematics. He devoted his career to preparing the next generation of students, who were also often supported by his wife Margine "Mardi" McVey Holland. Preference for this award will be given to students whose primary interest is the morphology and systematic relationships of fossil invertebrate organisms.
H. Richard Lane Award
All applications will be considered for H. Richard Lane Awards. 
N. Gary Lane Award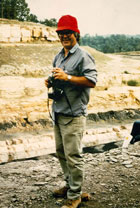 N. Gary Lane (1930-2006) was a leading international authority on fossil crinoids during the 20th century. He completed his Ph.D. research on Mississippian crinoids with R.C. Moore (founder of the Treatise on Invertebrate Paleontology) at the University of Kansas in 1958. He then joined the faculty at UCLA where he rose to the rank of Professor before moving to Indiana University in 1973 so he could be closer to the Mississippian outcrops he so loved. Along with Moore, he was a major contributor to the Crinoidea volumes of the Treatise. Gary published numerous papers and books on crinoid systematics, paleoecology, and evolution, as well as several other topics in paleontology, stratigraphy, the history of geology, and the textbook Life of the Past. He was an innovative thinker and contributed pioneering ideas in benthic community paleoecology. In addition to his scholarly publications, Gary was well known for his love of geologic fieldwork, close comradery with fellow geologists, his nurturing of graduate students, many of whom he inspired to be professors as well, and his encouragement of other echinoderm paleontologists. Among many honors, he was President of the Paleontological Society (1987-1988) and received the R.C. Moore Medal of SEPM (1995). After his retirement in 1995, he remained active, participating in two research expeditions to China that produced several publications. In 2005, a symposium was held in his honor at the Annual Meeting of the Geological Society of America, which led to the book, Echinoderm Paleobiology, published by Indiana University Press.

All applications will be considered for three Lane Student Research Awards. 
Richard Osgood Award
The Osgood awardee shall undertake a project that integrates knowledge of natural history and behavior of modern animals with observations derived from the fossil and stratigraphic record. The committee will assign the Osgood Award to the successful proposal that most nearly meets these criteria. 
Allison R. "Pete" Palmer Award
All applications will be considered for two Palmer Student Research Awards. 
James M. & Thomas J. M. Schopf Award
The Schopf Award was funded by a gift from Bill Schopf to honor the memories of James M. Schopf of the U.S. Geological Survey and The Ohio State University, Paleontological Society Medalist, and Thomas J. M. Schopf of the University of Chicago, winner of the Paleontological Society's Charles Schuchert Award.

All applications will be considered for a Schopf Student Research Award. 
Steven M. Stanley Award
The Stanley Award was established by the Paleontological Society in recognition of Steve Stanley's generosity to the Society. All applications will be considered for a Stanley Student Research Awards. 
Robert J. Stanton & James R. Dodd Award
The Stanton & Dodd Award was established by Cheryl Metz to honor the fruitful collaboration of Bob Stanton and Bob Dodd. All applications will be considered for a Stanton & Dodd Student Research Award. 
Harry B. Whittington Award
All applications will be considered for a Whittington Student Research Award. 
Ellis L. Yochelson – Yochelson Student Research Awards
Ellis L. Yochelson (1928-2006) was both a paleontologist and a historian. His paleontological studies centered on Paleozoic mollusks, especially gastropods, but also included scaphopods, chitons, and monoplacophorans. In addition, he proposed the Phylum Agmata, and monographed the Late Cambrian "motorcycle tracks" made by Climacticnites.
His historical studies included the epic two-volume biography of Charles D. Walcott, the 75th anniversary volume of the National Museum of Natural History (USNM), and his 2004 study of "…Natural History in Washington." Ellis' bibliography has at least 300 entries. Ellis had a lifelong interest in natural history. He joined the U.S. Geological Survey in 1952 and had his laboratory at the United States National Museum of Natural History, Smithsonian Institution. After retirement in 1985, he continued at the USNM as a Research Associate and Scientist Emeritus for the rest of his life. Ellis, and his wife Sally, hosted innumerable colleagues and students who came to the USNM to study.
Ellis was President of the Paleontological Society, he founded the Society's annual short courses in 1978, and in 1969 he arranged the first North American Paleontological Convention (NAPC). The 2001 NAPC in Berkeley was dedicated to him. In 2003, he received the Award of the History of Geology Division of the Geological Society of America. Yochelson Ridge, in the Heritage Range of the Ellsworth Mountains, was named for him in honor of his Antarctic work. (See, 2007, American Paleontologist, v. 15, No. 1, p. 11).
All applications will be considered for four Yochelson Student Research Awards.
Paleontological Society Student Award Winners
2022 Student Award Winners 
William Freimuth for project "Exploring growth and variation in the early-diverging therizinosaurian Falcarius utahensis (Dinosauria: Maniraptora)." 
Emerald Bender for project "A reanalysis of Hadrosauridae using Bayesian optimality criterion for the recovery of more confident interrelationships among poorly supported clades". 
Kathleen Grosswiler for project "Did the Wrangellia Large Igneous Province trigger an extinction and biotic revolution during the Carnian?." 
Shamindri Tennakoon for project "Morphological disparity and variability of the fossil gastropod Hystrivasum (Family Turbinellidae)." 
Frances Stephenson for project "The comings & goings of Bison antiquus in Big Bone Lick, Kentucky: an analysis of patterns in bison mobility." 
Thomas LaBarge for project "Application of stable nitrogen isotopes as proxy for trophic relationships of East African Pleistocene megafauna." 
Lynnea Jackson for project "Cranial description of a new basal sauropodomorph from the Early Jurassic of Antarctica."
Sarah Leventhal for project "The rise of colonial division of labor and diversification in cheilostome bryozoans." 
Vikram Vakil for project "Size doesn't matter: Late Quaternary extinctions of Australia's small-bodied faunas." 
Alexandra Norwood for project "Environmental seasonality across Southern Africa at the Last Glacial Maximum." 
Eloise Hunt for project "Elucidating the drivers of Galloanserae evolution using high-resolution 3D imaging."
Ezekiel King Phillips for project "Reconstructing the paleodiet of fossil snails from nitrogen isotopes in carbonate-bound organic matrix and carbon stable isotopes in calcium carbonate." 
Jacob Wilson for project "The effects of the Cretaceous-Paleogene extinction on freshwater fish." 
Jonas Zajonz for project "Dietary change in the life of Rapetosaurus krausei (Sauropoda: Titanosauria)." 
Kaedan O'Brien for project "Seasonality as a driver of ungulate migration patterns at the Late Pleistocene site of Kibogo, Kenya." 
Karen Pham for project "Effects of Holocene animal extinction on seed sizes of Malagasy Canarium." 
Kayla Irizarry for project "Did persistently low oxygen conditions slow diversification during the Cambrian?" 
Liam Norris for project "Insights into dinosaur ecology through isotope analysis of Sauropod teeth from the Morrison Formation." 
Lilja Carden for project "Dead shell assemblages as archives of eutrophication gradients: the future of nitrogen isotopes in estuarine monitoring." 
Claire Williams for project "Environmental influence on facies composition over time, Canada Honda Reef." 
Jordan Claytor for project "Mammalian dietary ecology during the post K-Pg recovery interval." 
Katherine J Jordan for project "Persistence in the face of extinction: a morphological examination of proetid trilobites." 
Katherine Turk for project "Investigating the potential animal origins of enigmatic late Ediacaran traces from Namibia." 
Malton Carvalho Fraga for project "Ophiuroid taphonomy: a proxy of event beds in Devonian mudrock sequences of Brazil." 
Marion Thaureau for project "Leanchoilids from the Fezouata biota." 
Michael Serio for project "Whole forelimb digital modeling in the Late Cretaceous Dinosaur Troodon formosus."
Nidhi Utkarshbhai Patel for project "A spore-pollen record of terrestrial vegetation response to the Cretaceous-Paleogene boundary mass extinction event, Oyster Bay Formation, Vancouver Island, British Columbia, Canada." 
Samantha Arsenault for project "Paleoclimate aspects of an extinct, endemic land snail community at Ka'ena Point, O'ahu." 
Tengxiang Wang for project "Origins of modern vegetation in mainland Southeast Asia: Paleobotanical evidence from Vietnam." 
Annaka M. Clement for project "The adaptive radiation of the bivalve Monotis in the Late Triassic of New Zealand: environmental or biological drivers?" 
Anne Kort for project "Evolution of lumbar vertebrae in Paleogene mammals." 
Haley Vantoorenburg for project "Paleoecological trends in epibiont communities on Devonian brachiopods."
Jaleigh Pier for project "Investigating the effects of harvesting on body size of the Eastern Oyster, Crassostrea virginica, within the Guana River Marsh Aquatic Preserve: A paleoecological approach."
James Beech for project "Convergent evolution in enigmatic trilobites: the function and origins of the Harpetid Brim and Trinucleid Fringe." 
Julia Criscione for project "A morphological and phylogenetic analysis of early Sternorrhynchan insects from the Late Triassic Cow Branch Formation." 
Kelly Tingle for project "Making microfossils: Experimental taphonomy of protists." 
Nicholas S. Smith for project "Expanding our understanding of the Late Paleozoic record of fossil brittle stars using novel techniques." 
Luis Alejandro Giraldo Ceron for project "Did insect herbivores track Eucalyptus from Eocene Patagonia to modern Australasia?" 
Valerie Trinidad for project "Testing Triassic climatic variability and vertebrate distribution across southern Pangea with comparative histological analysis."